AXIS P1378-LE Network Camera offers clear, sharp images in any day or night scene. This robust, fixed box camera acts as a deterrent and is ideal for surveillance in wide, outdoor areas where a high level of detail is needed, such as at airports, cargo areas and public transportation systems.
No detail too small
With excellent 4K resolution, AXIS P1378-LE captures detailed images of fast-moving objects and people.  Thanks to Axis Zipstream with support for H.264/H.265, the camera provides exceptional savings on bandwidth and storage requirements without compromising image quality. It offers scene profiles, corridor format and electronic image stabilization for stable images in situations where the camera is subject to vibrations. The camera is ideal for varous surveillance situations thanks to a CS mount and support for motorized i-CS lenses, enabling remote zoom. Use our lens calculator to select a lens that meets your specific requirements.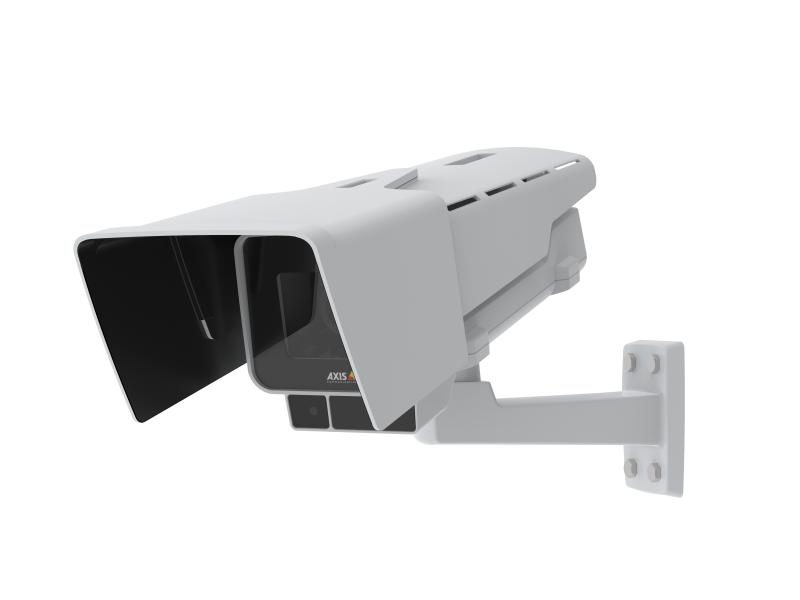 Light up the night
AXIS P1378-LE delivers excellent image quality regardless of the light conditions. It's designed to be reliable under rough conditions and can withstand extreme temperatures ranging from -40 °C to 60 °C (-40 °F to 140 °F). The IP66-, IP67-, IK10- and NEMA 4X-rated casing protects against water, corrosion and dust. And, 
AXIS P13 Weathershield Extension A
 is available for extra protection against snow or rain and to prevent reflections. It features 
Axis OptimizedIR
 for surveillance in pitch darkness up to 80m or more as well as barrel distortion correction and defogging functionality. Furthermore, it offers 
Axis Forensic WDR
 and Axis 
Lightfinder
for sharp, color images in poor lighting conditions. Plus, there's a video streaming indicator making it easy to check that the video is up and running.
Keeping You Secure
AXIS P1378-LE is crammed with advanced security functionality to prevent unauthorized access and safeguard your system. Signed firmware and secure boot guarantees that the firmware hasn't been compromised and ensures only authorized firmware is installed. And if needed, secure boot guarantees the camera is completely free of malware after a factory default. For added peace of mind, it offers shock detection as well as a tampering alarm so you can be informed if there's any attempts to interfere with the camera, such as blocking or spray painting.
Technical specifications
Model: Camera Axis P1378-LE
General
| | |
| --- | --- |
| Remote focus | – |
| Remote zoom | – |
| Built-in IR | Yes |
| Local storage (memory card slot) | Yes |
| Operating temperature | -40 to 60 °C |
| Outdoor Ready | Yes |
| Vandal rating | IK10 |
| IP rating | IP66, IP67 |
| Designed for repaint | Yes |
| Sustainability | PVC free |
Camera
| | |
| --- | --- |
| Image sensor | CMOS |
| Image sensor size | 1/1.8 |
| Sensor size in megapixel | 8.0 |
| Lightfinder | Lightfinder |
| Wide dynamic range | Forensic WDR |
| Min illumination/ light sensitivity (Color) | 0.15 lux |
| Min illumination/ light sensitivity (B/W) | 0.03 lux |
Video
| | |
| --- | --- |
| Max video resolution | 3840×2160 |
| Max frames per second | 25/30 |
| Electronic image stabilization | Yes |
Lens
| | |
| --- | --- |
| Focal length | 3.9 – 10 mm |
| Horizontal field of view | 115-45 ° |
| Vertical field of view | 61-25 ° |
| Lens mount | CS |
| Replaceable lens | Yes |
Compression
| | |
| --- | --- |
| Zipstream | Yes |
| H.264 | Baseline, High, Main |
| H.265 | Yes |
| Motion JPEG | Yes |
Audio
Network
Security
| | |
| --- | --- |
| Signed firmware | Yes |
| Secure boot | Yes |
 Power
| | |
| --- | --- |
| Power (max) | 19.9 W |
| Power (average) | 11.1 W |
| DC input voltage | 12-28V |