AXIS Q8685-LE PTZ Network Camera – Sometimes you need a slow, steady pan. Other times it's important to be on the spot in a flash. With the responsive AXIS Q8685-LE PTZ Network Camera, you set the pace for unobstructed and far-reaching surveillance of expansive outdoor areas. AXIS Q8685-LE features IR illumination and built-in optical IR filter, so even complete darkness or challenging mixed lighting conditions are no deterrence. 
Informations about AXIS Q8685-LE PTZ Network Camera
Swift and smooth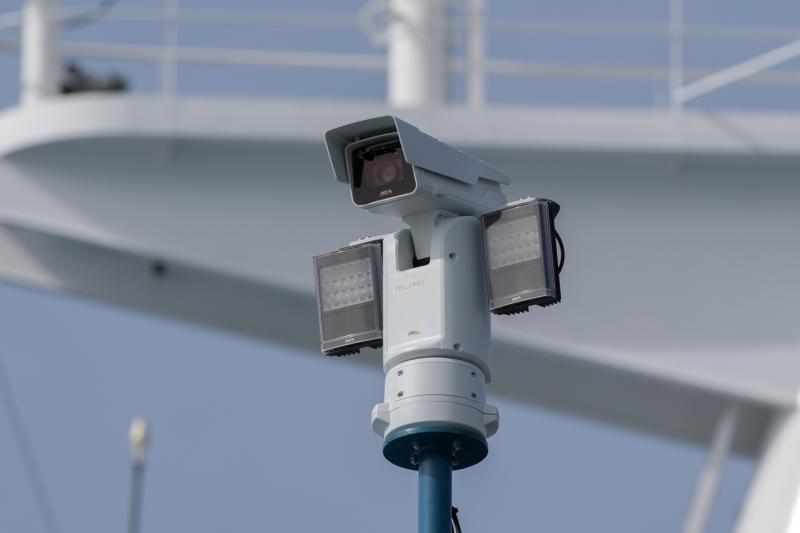 AXIS Q8685-LE lets operators choose between high-speed and ultra-slow pan and tilt movement – from 0.05 to 120 degrees per second. So they get smooth and jerk-free panoramic viewing when they need it and can respond quickly to events. It is capable of operating in extreme temperatures, and it can withstand hurricane-strength winds when it's in motion of up to 52-meter per second (117 mph), and winds over 60-meter per second (135 mph) when it's in motion and without sunshield.
Ground-to-sky view
The camera can be column-mounted, on poles or walls for a 360° panoramic view and a ground-to-sky view from -90° to +45°. If the need is to tilt upwards, up to +90°, this can be achieved by mounting the camera housing in an inverted configuration on the positioning unit. The inverted configuration gives a tilt range of  -45° to +90°.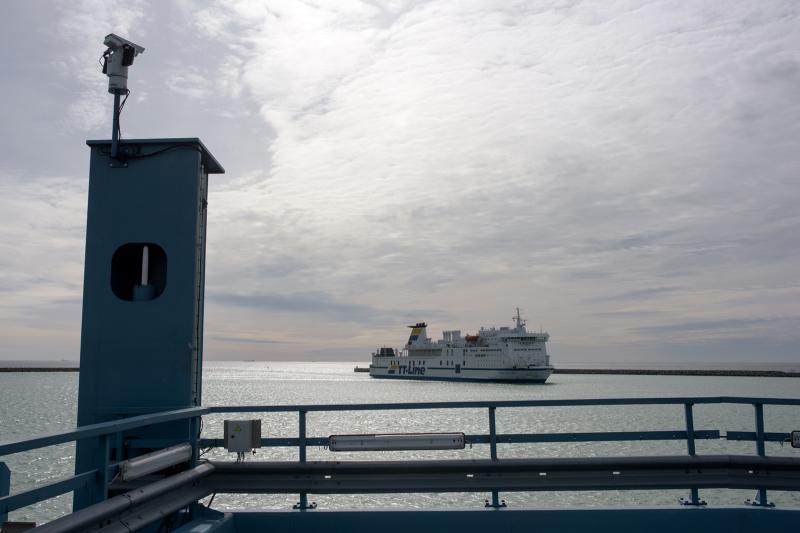 Far and wide
With 30x optical zoom and superb pan and tilt capabilities, AXIS Q8685-LE delivers long-distance identification and the widest possible field of view in every direction.  It has WIde Dynamic Range – Forensic Capture for clarity and detail in scenes with both dark and light areas. And it has  Focus recall for instant focus in areas you define. In addition, AXIS Q8685-LE will also automatically zoom in on objects detected in pre-defined areas thanks to Advanced Gatekeeper. And AXIS Radar Autotracking for PTZ provides automatic tracking of detected objects.
Night and day
AXIS Q8685-LE is equipped with powerful IR LED illuminators for sharp video in complete darkness up to 500 meters (1640 feet) without diverging lens. The illuminators are long-range and long lasting, making AXIS Q8685-LE the right choice for surveillance where there are few or no light sources. Thanks to built-in optical IR-cut and IR-pass filters, AXIS Q8685-LE provides superior image quality even in challenging mixed lighting conditions.
Operate with total confidence
AXIS Q8685-LE's slim design and many available accessories let you install it anywhere you want. The camera is specially designed to be reliable, robust and weatherproof in diverse conditions. It features SFP slots for cost-effective network connection over long distances. When both the Ethernet and fiber-optic cables are connected, the cameras can be set up in failover mode to create a redundant network link or in daisy-chain mode for connecting multiple devices in sequence.
Technical specifications
Models: AXIS Q8685-LE 24 V AC/DC
Camera
 

| | |
| --- | --- |
| Image sensor | CMOS |
| Image sensor size | 1/2.8 |
| Sensor size in megapixel | 2.0 |
| Lightfinder | – |
| Wide dynamic range | Forensic Capture |
| Min illumination/ light sensitivity (Color) | 0.2 lux |
| Min illumination/ light sensitivity (B/W) | 0.01 lux |
General
 

| | |
| --- | --- |
| Built-in IR | Yes |
| OptimizedIR | – |
| Local storage (memory card slot) | Yes |
| Operating temperature | -50 to 55 °C |
| Outdoor Ready | Yes |
| Vandal rating | – |
| IP rating | IP66 |
| Designed for repaint | Yes |
Analytics
 

| | |
| --- | --- |
| Autotracking version | Autotracking 1 |
| Orientation aid | – |
Video
 

| | |
| --- | --- |
| Max video resolution | 1920×1080 |
| Max frames per second | 50/60 |
| Day and Night functionality | Yes |
| Electronic image stabilization | Yes |
Lens
 

| | |
| --- | --- |
| Focal length | 4.3 – 129 mm |
| Horizontal field of view | 65.6 – 2 ° |
| Vertical field of view | 39 – 1.2 ° |
Pan, Tilt, Zoom
 

| | |
| --- | --- |
| Pan range | 360 endless |
| Tilt range | -90 to 45, -45 to 90 |
| Guard tour | preset position tour |
| Optical zoom | 30 |
| Digital zoom | 12 |
Compression
 

| | |
| --- | --- |
| Zipstream | Yes |
| H.264 | Baseline, High, Main |
| H.265 | – |
| Motion JPEG | Yes |
Audio
 

| | |
| --- | --- |
| Audio Support | – |
| Built-in microphone | – |
System Integration
 

| | |
| --- | --- |
| Audio detection | – |
| Active tampering | – |
| Alarm inputs/outputs | 4 |
Security
 

| | |
| --- | --- |
| Signed firmware | – |
| Secure boot | – |
| TPM | – |
See the product at the manufacturer's website here